_
"When he said I should never be without roses in my life, he wasn't kidding."
I was commissioned to create an encaustic painting for my friend, Sarah, by her love, Terry. He contacted me and explained how he wanted to surprise Sarah with it as a present for Valentine's Day. Terry is the man who showers her with roses. Sarah shares her weekly bouquets on Instagram, saying "On days when I just want to hide under my desk and go to sleep, I turn and take time to smell the roses... and I am reminded that the beauty of love is what brings us all together."
Sarah is more than just a friend to me but also my former dance teacher and mentor. She is the founder of multiple award-winning dance companies to date, namely one in particular called Footprints Tap Ensemble. Footprints is a semi professional youth tap dance company from the Chicago area that I was lucky to be a part of. I grew up tap dancing with Footprints and learning from Sarah, from grade school through high school, performing all over the nation. I looked up to her then and continue to look up to her for who she is today; an incredibly talented, creative, and courageous woman who isn't afraid to be herself. Some of my fondest memories growing up are the years I spent dancing with Footprints. I miss performing and learning new routines, but most of all, I miss our family and the friendships we shared together both on and off stage. Twenty years later, I am able to give her a gift of my art in the form of a painting, but the meaning behind it is just as much a gift for me as it is for her.
Terry asked for the artwork to capture Sarah, her incredible and creative imagination, and most of all, the connection they have discovered together. He sent me a beautiful poem he wrote for her, photos for inspiration, and a few color suggestions from Sarah. Without hesitation, I knew exactly what I would do.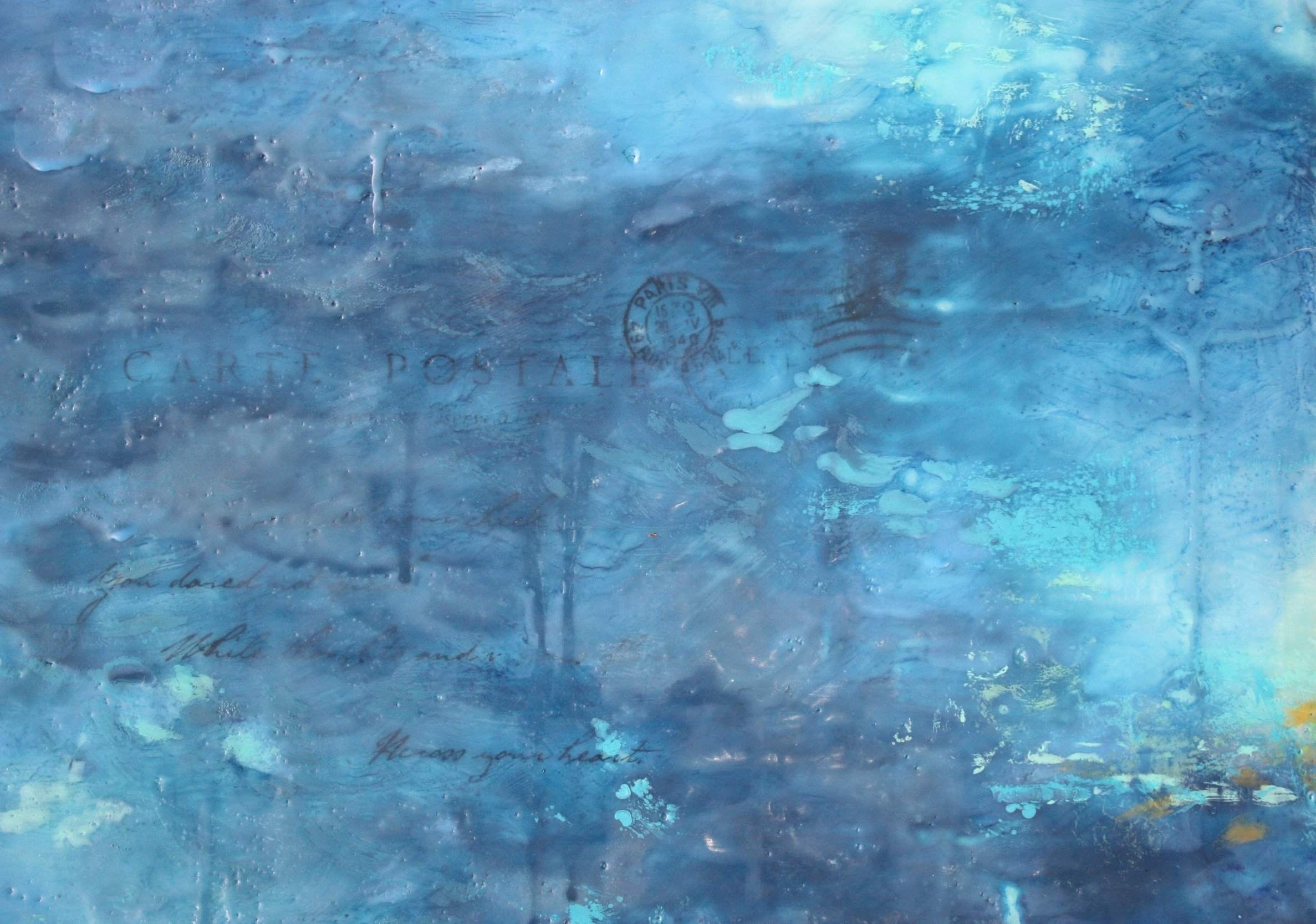 The Year of Roses combines everything into one. I used lines of Terry's poem "I Fell In Love Five Times Today" within the layers of wax as an image transfer. I also incorporated an image transfer of a vintage Paris postcard to incorporate Sarah's love for Paris and all things vintage. In the upper right side you can faintly see the words "CARTE POSTALE" along side a Paris postage seal. The blues and greens are reminiscent of Monet and Van Gogh's palette of cerulean, teal, and navy blue, while the red and pink roses dance from side to side. I used vintage lace as a textured impression around a couple of the roses by applying clear wax over the lace and letting it soak through. The combination of these elements brings the old into the new, the past into the present.
The title The Year of Roses has significance for Sarah but also has a deep meaning to me. This commission is my first encaustic painting post pregnancy and it was an achievement to be back in the studio. In my previous post I shared the story of my daughter Rosie's miraculous entrance into this world. It truly is a year of Roses, blessings, and love for both of us.
While I was painting, I filmed the entire process from start to finish and edited it down into this short video. I hope it gives insight into my process and shows the love that is poured into each and every brush stroke.
A huge thank you goes out to Terry and Sarah for commissioning me to create this painting. It quickly became one of my most favorite works thus far and I grew extremely attached to it. It gives me such joy to be able to share my art to those who appreciate it.
--
I fell in love five times today - by Terence Flynn
I fell in love five times today,
And every time with you.
Caressed your cheek,
You dared not speak
While thoughts and visions flew
Across your heart.
Five times, I say, so let's be clear
About the girl I love so dear.
My sexy, lovely, dancer true
Who pulls me in, my eyes she drew
To follow close, her shimmies drawing near
Towards my heart.
Oh sweet submissive, so desiring
My deepest domination firing
Strong and firm, you need my hand
To steady you with clear demand
Your soul, your sex, your body, all requiring
Your given heart.
Entrepreneur, you fashion fate
To build the world your dreams create
No wall too high, too thick to breach
Aspire so far as you can reach
And then some more, for limits don't deflate
Your fertile heart.
Music fills your throat, your lips
It swells your chest, it sways your hips
My lyricist of magic phrase,
I sit transfixed and would for days
Just by your voice, you launch my thousand ships
With joyous heart.
Golden laughter fills the air,
Your smile flashed bright, I listen there
Your mother's voice, so filled with love
As you give sons a voice above
The rest, to teach them how to care
About all hearts.
Five times I said, but love, I lie.
Ten times or more, each day I die
To see you, kiss you, hold you dear
I fall each time, each time more clear
To me. Without your love am I
A seeking heart.
Your soul calls out, twin flame to mine
Invisible and strong, divine
Beyond my ken, our paired embrace
Transcendent of all time, of space,
A story never told, yet told before, entwine
Our hearts as one.